Free World Book Day Activities
published on 23th February, 2023
Next Thursday (2nd March) is World Book Day, an annual event to celebrate the joy of reading.  This day is an opportunity for children to discover new books, learn about their favourite authors and participate in a range of activities that promote reading and literacy.  And we have some free fun PE activities to help celebrate the day.  These free World Book Day activities will be available throughout the next 7 days only (23rd February to 2nd March 2023).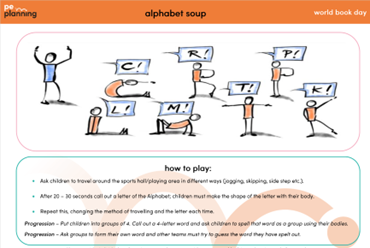 Here's 2 fab facts you might not have known…
– The origins of World Book Day can be traced back to 1923. Spanish writer Vicente Clavel Andres proposed the idea of celebrating a "World Book Day". This was to honour the anniversary of the death of Miguel de Cervantes, the author of Don Quixote.
– 2nd March is also Dr Suess Day. Mostly celebrated in America, this day is dedicated to celebrate the fabulous Children's Author's birthday. Although Theodor Suess was American, he actually studied in the UK. Our favourite quotation of his is… "Don't cry because it's over. Smile because it happened".
World Book Day in Primary Schools
One of the main goals of World Book Day in primary schools is to encourage children to develop a love for reading.  Reading is an essential skill that can help children improve their vocabulary, comprehension and critical thinking abilities. It can also boost their creativity and imagination, and provide them with a lifelong source of entertainment and learning.
It is likely that your school will have planned lots of fun character fancy dress, reading sessions, book swaps, writing competitions, book tokens and maybe even a visit from an author or illustrator. But don't forget to invite PE to the book party!…
Many children find it difficult to connect in the classroom, so the combination of active play and literacy can be a perfect way to engage children into the wonderful world of reading, writing and creativity.
Just go to our 'calendar' page, select March and download our free World Book Day activities and games for free.
Free World Book Day Activities
The 'Alphabet Soup' and 'Book Characters' games are great replacement warm ups for PE on World Book Day. Whereas the 'Word Relay' and 'Build the Title' games can be used as stand-alone fun activities, engaging children into literacy.
By promoting reading for pleasure and celebrating authors and illustrators, World Book Day plays a vital role in nurturing a love of literature in children, which can stay with them for life. We hope you love our free World Book Day activities as much as we do (we are certain that your pupils will).
Learn about a Free Membership to PE Planning as well as the different, low cost subscription packages we offer to Teachers, Coaches and Schools here…